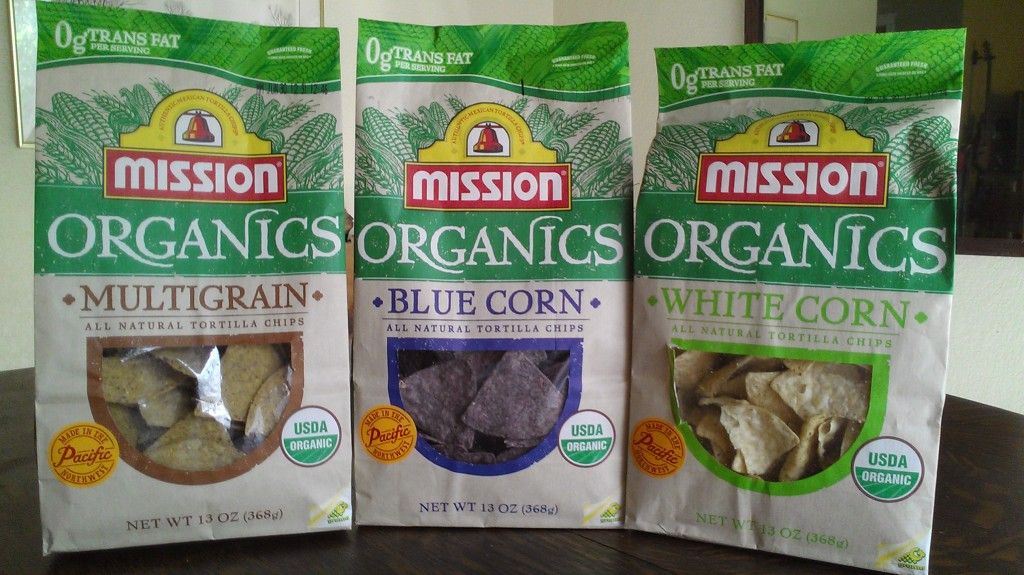 If you know me, then you know I'm a tortilla chip fanatic. I just love them! The crunch, the saltiness, the sweet corn flavor…. Mmmmm! Needless to say, it thrilled me to be able to review a new version of an old favorite.  Plus, Mission has graciously offered to let me give away 3 bags each to FIVE lucky readers!
Mission Organics Tortilla Chips have a lot going for them beyond saltiness, flavor and crunch.  For starters, they are made with only five basic, certified organic ingredients.  Just five, all organic ingredients…flour, water, organic sunflower oil, sea salt and lime. That's it! Pretty impressive, eh? Plus, they come in not one, not two but THREE different corn types to placate your taste buds every whim. White Corn, Blue Corn and MultiGrain. And if that weren't enough, if you're Pacific NW resident, you should be pleased to know these are made in McMinnville OR, right here in your back yard.
Did you know?
Tortilla chips aren't just for dipping or nachos. That's right…I said it. Momentarily, cast away your traditional knowledge of how to eat a tortilla chips with salsa, dips and such to envision what other mouthwatering, crunch fulfilling, savory, sweet, salty options are available.
Crumble over salads, soup or macaroni & cheese.
Crush to coat fish or poultry
Use instead of bread crumbs in meatloaf or stuffing
Crumble over sweet ice creams
For my taste test, I couldn't wait long enough to prepare any of the options I listed above.  I actually prefer to use the already crumbled, broken crumbs at the bottom of the bag instead of crushing beautiful whole chips I might want to dip and, well,  I just couldn't wait that long to eat them.  Remember, I'm a tortilla chip fanatic and also, a bit impatient when it comes to my food.  I did, however, prepare a lovely pineapple/mango salsa that I shared with my family.  Isn't it pretty?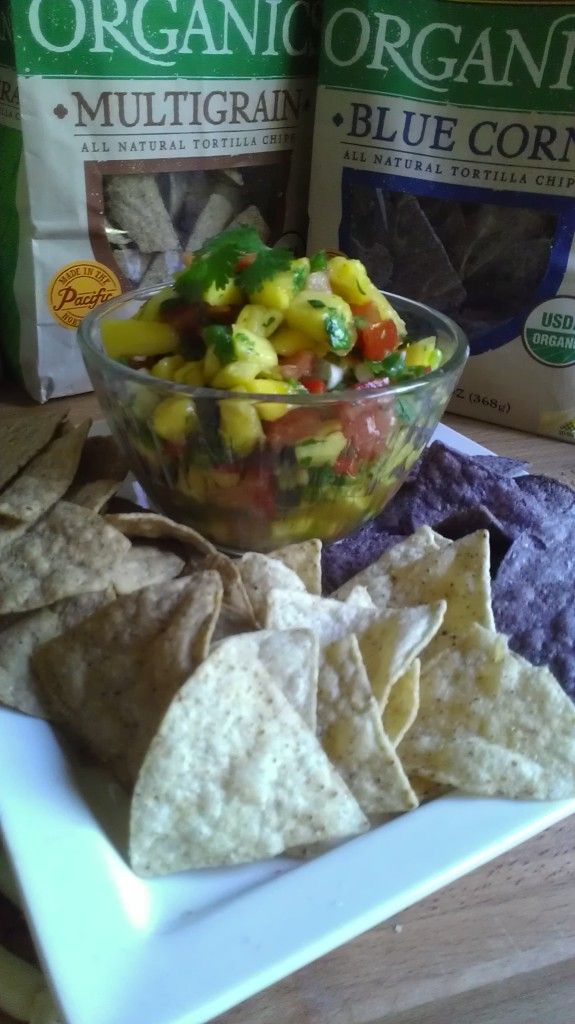 Each type of Mission Organics Tortilla Chips was just slightly different.   They were all mildly salty with the perfect amount of crunch, not stiff or hard like some tortilla chips.  While I did love them all, the MultiGrain version won over my particular taste buds!
White Corn – A little sweeter, mildly salty, crunchy and a bit flaky, crumbling just the perfect amount in your mouth with a traditional tortilla chip texture
Blue Corn – Mildly salty like the white corn, not flaky, but perfectly crunchy with a clean, darker flavor than the white corn and a bit smoother texture
MultiGrain – Mildly salty like it's white and blue corn family, more texture and crunch with a slight bit of flaking, slightly sweet with a nutty wholesome aftertaste
Currently, these are available in 13 oz bags at select Safeway, Haggen, QFC and Fred Meyer stores in the NW.  You'll be able to find them @ $3.99 per bag, but like anything else, prices can vary by location.  If you don't happen to be a Pacific NW resident or near a store that carries them be sure to enter our giveaway!
Mission Organics Tortilla Chips – Giveaway
5 Lucky Readers will win 3 Bags each, courtesy of Mission! 
*This giveaway is sponsored by Mission Foods. I received the Mission Organics Tortilla Chips for review from Mission. The opinion and views expressed are my own.